I am a man with two birthdays: I was born in March 1685. It was March 21 in the area of Eisenach, where the Julian calendar was still in use that time. Following the modern Gregorian calendar it was March 31. Anyway my birthday was 333 years ago.
Do you feel inspired to compose a canon which codes my name and 333? Take part in the competition and win a prize.
I worked hard. Anyone who works as hard as I did can achieve the same results. Try out and have fun!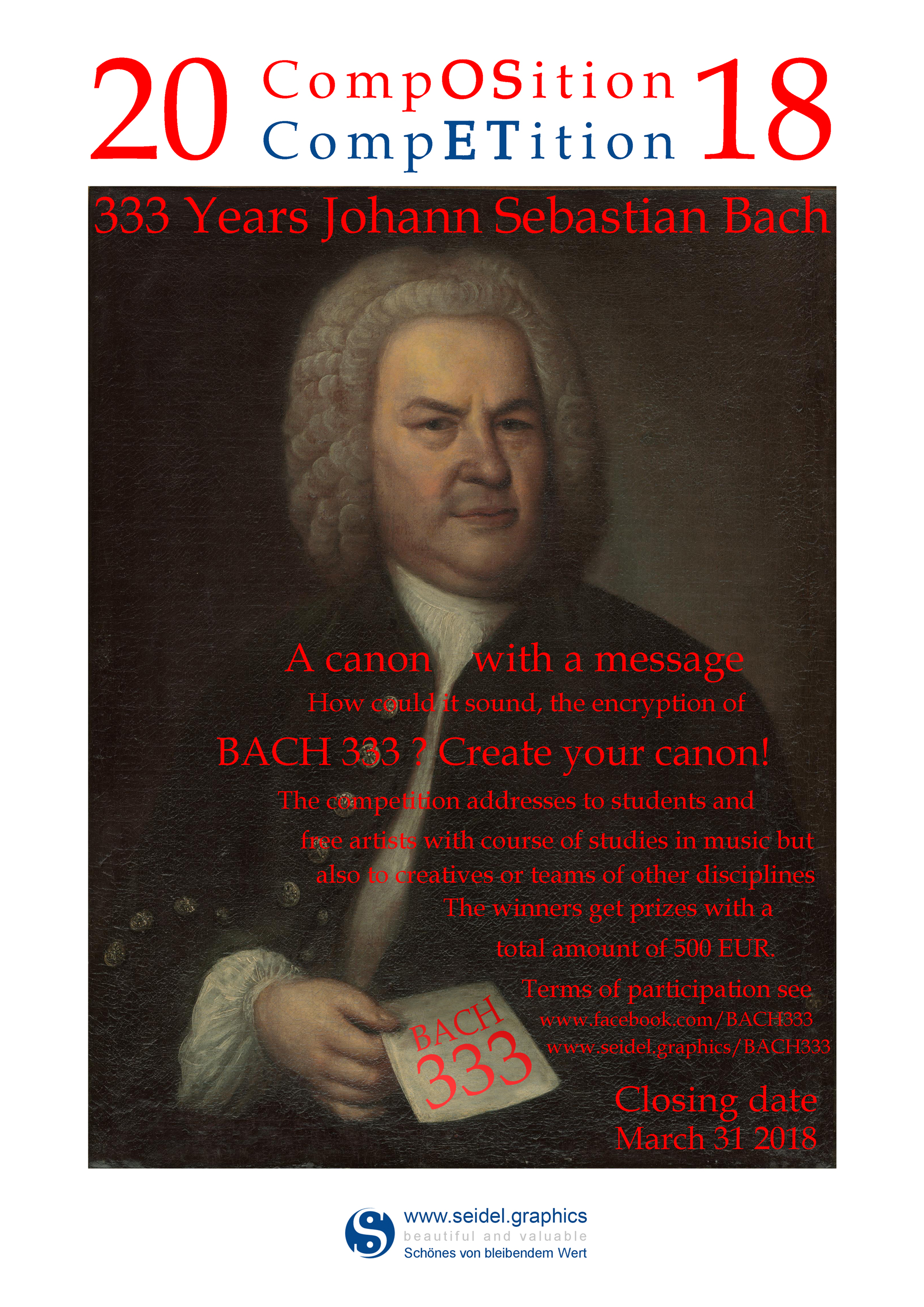 Terms of participation:
Create a canon about BACH 333.
The composition can be for vocalists or instrumentalists.
There are no constraints to the cast.
Mail your contribution to bach333@seidel.graphics
with the following information
The score (pdf)
Music file (e.g. mp3, mp4, mid)
Some information about your person and composition
Your postal address for communication and sending in case of winning
Your personal data is used just for communication in matters of the competition. No data is sent to third parties. Participants of the contest concede seidel.graphics to illustrate and animate the compositions and to publish the contributions – music and text – with the name of the composer online or in print media. The composers keep all rights for further publishing and performing.
The independent jury consists of international music experts. They judge the contributions and award prices to the best eight compositions. No recourse to legal action is permitted.
| | | | |
| --- | --- | --- | --- |
| 1. prize: 200 EUR | 2. prize: 100 EUR | 3. prize: 75 EUR | 4. prize: 50 EUR |
| 5. prize: BACH mat | 6. prize: BACH mat | 7. prize: Mousepad | 8. prize: Mousepad |
Closing date is Saturday March 31 2018.
Estimated date to inform the winners and publish the results
on www.seidel.graphics is July 31 2018.